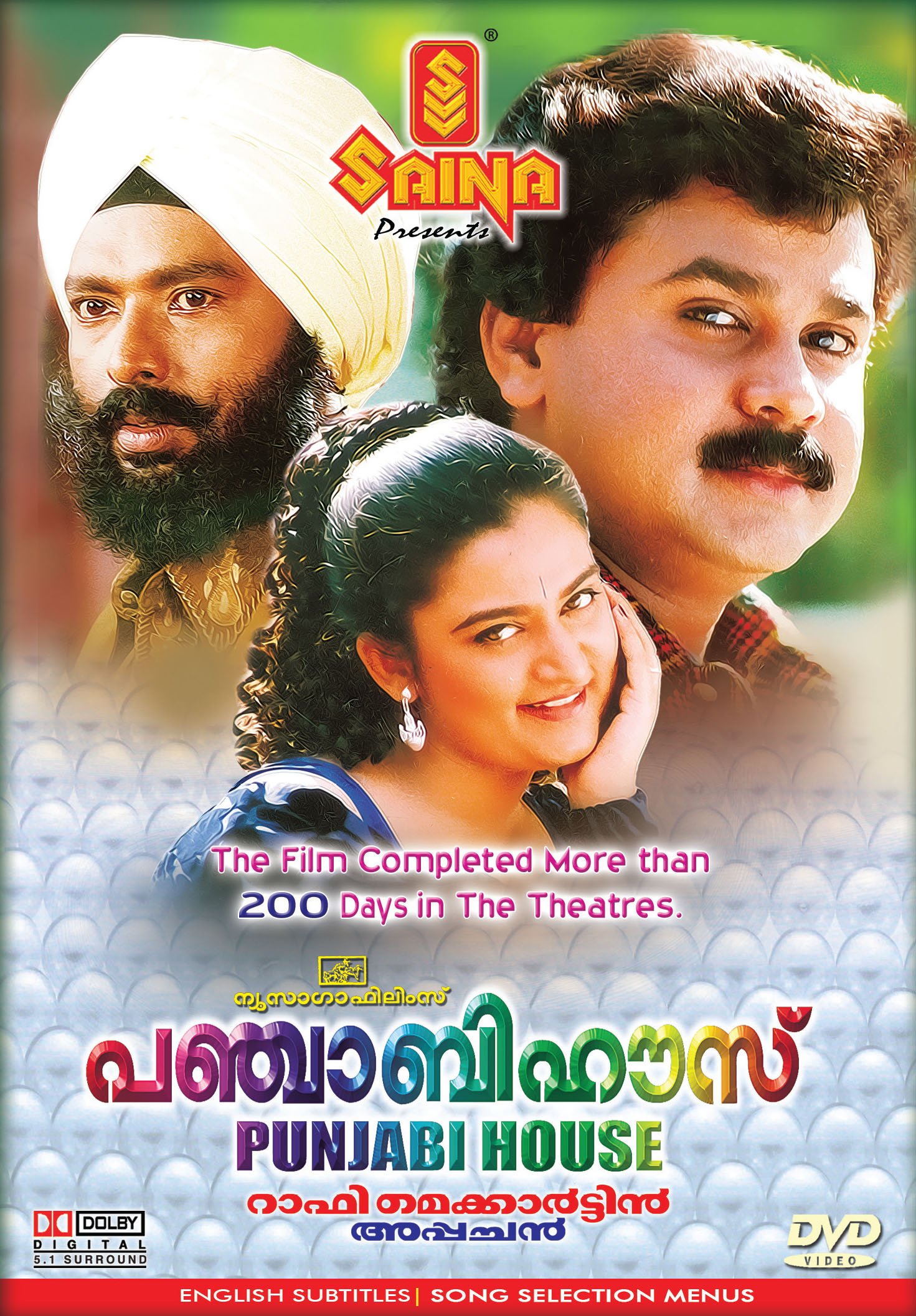 Movie Cover Details
Actors: Dileep, Mohini, Lal, Cochin Hanifa, Harisree Asokan
Directors: Rafi Mecartin
Format: Anamorphic, Dolby, NTSC
Language: Malayalam
Subtitles: English
Region: Region 5 (Read more about DVD formats.)
Aspect Ratio: 16:9
Number of discs: 1
Rated: U (Universal)
Studio: Saina Video Vision
Product Release Date: 30 April 2017
Run Time: 145 minutes



Movie Summary
Punjabi House is a 1998 Malayalam comedy musical film written and directed by Rafi Mecartin, starring Dileep, Mohini, Lal, Cochin Hanifa, Harisree Asokan, Neena Kurup and Janardanan. The music was composed by Suresh Peters and S.P. Venkatesh, the former composing the songs making his debut as a film composer and the latter composing the score. The film was released as a grand Onam release on the day of Thiruvonam along with six other major releases. but Punjabi House became a blockbuster in the first week alone,It ran for 200 days and highest grosser of the year and the biggest blockbuster of the year. Unni (Dileep) is an unsuccessful entrepreneur, who is in deep debt and in no situation to repay them. Due to torment from his many creditors and lack of solace from his family, he decides to commit suicide (faking it as an accident) so that his debts can be repaid with the insurance money. He jump off the pier into the sea only to be rescued by fishermen from a distant coast, named Gangadharan (Cochin Haneefa) and his employee Ramanan (Harisree Ashokan). Unni pretend to be deaf and mute in front of them, so as to not reveal the truth. Back at home, his family is denied insurance stating unconfirmed death (owing to the missing corpse), putting them in a difficult situation on repaying the debt. Gangadharan has a debt of his own, to a Punjabi family of money lenders who are settled in Kerala. Situation demand Unni and Ramanan to work at their home, until he can repay the sum. There he meet a Punjabi girl named Pooja (Mohini), who is mute. She finds out that he is not deaf or mute and consider him to be a fraudster, but later sympathize with him after learning his situation. She pay off his debt through Ramanan, without revealing to his family about their living son. The couple eventually fall in love and decide to get married. Her family agrees to their marriage on the condition that he will never desert her, as she had a traumatic failed marriage proposition in the past.
Ratings & Reviews
This movie has been rated by
1 customer rating customers
on Amazon; with the average ratings of
1 out of 5.
Punjabi House - Malayalam (2017) Movie Images, Posters, Wallpapers
Listen Online Punjabi House - Malayalam Jukebox/Songs (2017)
Punjabi House - Malayalam (2017) Trailers
(2017) Punjabi House - Malayalam - Fans and Public Reactions
Punjabi House - Malayalam Interviews, News, Events